Managing traffic peaks on a website allows users to benefit from a comfortable web surfing avoiding those inconveniences caused both by overload (when various users try to access a web platform in a limited time frame) and unexpected crashes, ensuring an optimal experience to every user..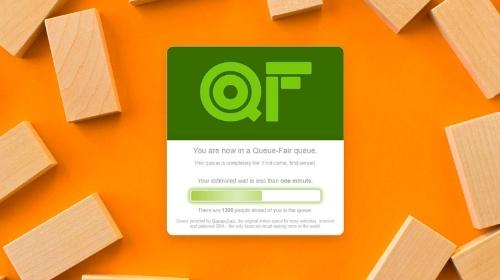 Thanks to our Virtual Waiting Room solution , When a website has more visitors than it can handle, the eccess users are automatically addressed to a queue and than sent back to the starting website in first-come, at a certain rate.
COMMED I A has started a cooperation with Queue-Fair to improve the user experience on high demanded websites, for example those of the Public Administration, by means of Virtual Waiting Room solution .
Virtual Waiting Room for e-commerce
There are a lot of benefits the Virtual Waiting Room can bring to e-commerce portals. More traffic means more sales and more profits. However it means more pressure, as well, on both the server and the platform that will result in slow performance from overwhelming, and potentially, a complete crash.
A Virtual Waiting Room not just will help managing traffic peacks, but it will keep users well informed with constant updates about their queue position, so every visitor can get to know when they will reach their destination.
Which are the benefits of implementing a Virtual Waiting Room?
Zero downtime and maximum performances
Transparent information
Possibility to install it depending on the needs: just on specific pages, keeping other areas totally accessible for other visitors, or the whole site
Real-time data collecting and the chance to start real-time communication with visitors
Additional security measures
Fully customizable to integrate with the business brand
Option to give live updates about product availability
COMMED I A will use the Virtual Waiting Room from Queue-Fair in a little while, with website of both institutions and private companies, including e-commerce, with the awareness that there are loads of users, consumers and clients who don't trust those platform with crashing issues in overloaded moments, and with ripercussions on converions and sales better to avoid. Every webserver has limits, and when they are exceeded, the web platform crash is just close by.
Virtual Waiting Room: case study
COMMED I A has used the Queue-Fair solution for the first time on the Step One 2019, the national platform used to gather online application for the competitions announced by national and local administrations.
The Virtual Waiting Room system, in this case, allowed to handle easily traffic peacks addressing users from the overloaded web servers to an online queue and than sending them back to the first website, managing their order of arrivals and time rates.